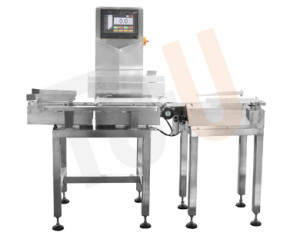 TY-CW-300 Check Weigher
It is used to check the finished products with preset weight value.Widely be used in many fields like electronic,pharmacy,food,beverage,health treatment, daily use chemical,agriculture,and light industry etc.Especially for checking cosmetics,washing products(soap, washig powder, detergent), dental ware(tooth paste, mouth wash), other chemical products(shoe cream, floor wax, deodorant, insect repellant).
Main Features:
*Producing Data Sorting Function:Producing data can be saved as Excel,1 year Data Save;
*Interface design:Foreseen interface makes data management easier,can be connected with internet and PC;
*Centralize Control:One PC or one HMI control multiple check weigher.
*Original program can be restored.
Special Features:
*Standard machine structure and HMI program design can suitable for wide range products;
*Various preset program,easy to change to fit different product;
*Easy panel operation with smart and humanization HMI interface;
*Simple maintenance,easy installation and cleaning;
*Speed adjustable by variable frequency motor;
*High speed and accuracy,by equipped with high accuracy digital load cell;
*Zero tracking;Zero by manual or automatic,dynamic zero tracking available.
Specifications:
Model   

TY-CW-300

Weighing Range

≤3000g

Weighing Accuracy

±

0.5g~±2g

Product Length

≤30

0 mm

Product Width 

≤30

0 mm

Control System

High speed A/D Controler

Max. Speed/Min

80 pcs/min

Operation Panel

7 inch touch screen

Typical Power 

0.4KW

Power Supply

AC220V/110V ±10%  50Hz(60Hz) 

Machine Dimension

1700mm(L)*878mm(W)*1385mm(H)

Eliminate optional device

Swing Arm, Pusher 

Working Condition

Temperature: 0℃~40℃  Humidity: 30%~95%