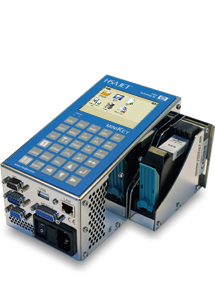 Minikey MKHP4
Coding & Marking made simple and fast!
A compact printer with integrated printheads. Ideal for integration in packaging lines.
MiniKey printer based upon HP TIJ 2.5 technology
The HSAJET® MiniKey is based upon the reliable HP TIJ2.5 technology, which offers consistent, high quality, fast printing. The printer's user-interface is so easy to use, that it requires very little or no training.
An 'All-In-One' printer
The MiniKey is an 'out of the box' unit. Mount an inkcartridge in the head, connect to power and print instantly by pushing a button.
New print-messages are easily made – straight from the keyboard or loaded from USB key or via the LAN or RS232 connection.
The basic unit comes with a ½" integrated printhead with built-in product sensor.
Choose from ½" – 2″ (12,7 – 50,8 mm) Printheight
The HSAJET® MiniKey is available with a ½" or 1″ printhead.
Having two printheads enables double-sided printing.
Print at breakthrough speeds of up to 300 m/min in 300 x 150 dpi