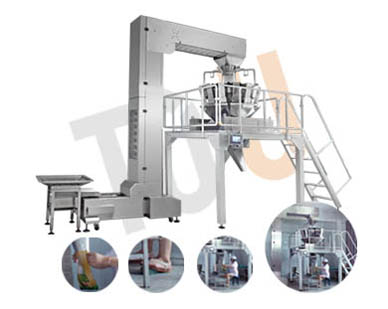 Semi-Automatic Packaging System
The units:
1.Vibration feeder
2.Material conveyor(acclivitous conveyor , z type conveyor is optional)
3.Supporting platform
4.Multihead weigher(10 head, 14 head is optional)
5.Timing hopper
6.Diverter device
Main Features:
1.Automatically complete all the process from feeding, weighing, filling.
2.Discharged and sealed by hands.
3.High weighing precision and efficiency without crashing and wasting materials.
4.Wide range application for various materials.
Main Technical Specifications:
1.System output: ≥3300ton per year.
2.Packing speed: 30~70 bags/min.
3.Packing accuracy: 0.3~1.5g.
4.Bag capacity: 10~3000g.
5.Operated language: Chinese, English, etc.