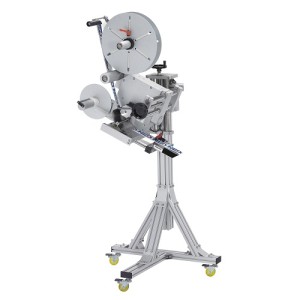 Labeling head with stand NLT-200
NLT-200 Labeling head with Stand is a very flexible labeler which can be installed in any production line. Both top labeler or Side labeler is available for different requirement.
NLT-200 Features:

1. Equipped with stand to suit any production line easily.
2. Right hand side or Left hand side are available.
3. Suitable for labeling on moving product on conveyor
4. Variable labeling speed is adjustable.
5. Programmed by microprocessor system.
6. Height can be adjusted easily.
7. Digit panel for setting parameters easily.
8. Optic fiber amplifier system for precise label length.
9. No products no labeling.
10. Made of stainless steel and aluminum alloy.
11. Driven by stepper motor.
NLT-200 Specification:

● Speed: 30~60 pcs/ min (depends on containers and labels size)
● Labeling speed: 12 M /min
● Label size: (W) 10~100mm (L) 10~300mm
● Label reel: Inner diameter 75mm / Outer Diameter 300mm
● Accuracy: ± 1mm
● Machine size: (L) 916mm (W) 636mm (H) 996mm
● Power supply: 110/220VAC, 50/60Hz
NLT-200 Option accessories:

● Servo Motor.
● Colorful touch screen.