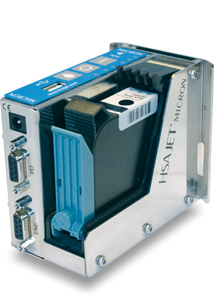 Micron MCHP1 
Micron – A revolution in high resolution printing
Our Micron printer is a controller that is ideal for integration on various production lines where a low cost solution is required.
Place an ink cartridge in the head
Connect to power
Print instantly by pushing a button
Ideal for repeat printing jobs
Use the Micron for printing graphics, counters, date & time (real-time & adjusted), text, barcodes (fixed) and three variable lines.
Reliable HP TIJ 2.5 Technology
The Micron runs with 1 HP print cartridge allowing a print height of 12,7 mm.
Print in 300 DPI at 76 m/min or 150 DPI at 152 m/min.
The horizontal DPI resolution is variable from 75 to 600 DPI.