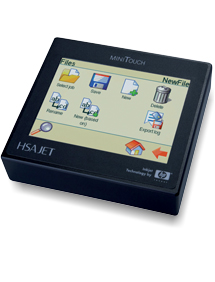 MiniTouch MTHP4
Touch Controller ideal for integration on packaging line – webs – inserters – folders – collators
5.7″ Touch Interface
Use the touch pen or simply a pointed finger to control the MiniTouch printer.
Illustrative, easy to understand icons lead you through all phases of building your printjob making printing simple and fast.
Flexible design
The controller can easily be mounted on a ½" or 1″ printhead for sideprinting.
This gives you a compact unit with the touch interface right where the print is executed.
Choose from ½" – 2″ printheight (12.7 – 50.8 mm)
The HSAJET® MiniTouch MT-HP4 can control up to 2″ printheight.
HP TIJ 2.5 technology
The HSAJET® MiniTouch is based upon the reliable HP TIJ2.5 technology which delivers consistent, high-quality, fast printing, exceptional value, and ease of use.
Print at breakthrough speeds of up to 300 m/min in 300 x 150 dpi